Cover Crops Benefit Wildlife
Cover crops provide many species of wildlife with food and shelter. If you want to maximize wildlife benefits, avoid cover crop monocultures. Cover crop diversity and interspersion are keys to improving wildlife habitat.

Healthy Soils Suppress Pets
Farmers who improve soil health increase the amount of soil carbon being stored, and recycled. The increased carbon flow increases microbial numbers and efficiency leading to improved plant photosynthesis. The entire soil ecosystem functions at a higher level.

Stop Tilling to Improve Soil Health
No-tilling corn is a difficult transition for most farmers. When farmers start no-tilling, the transition time may last 3-7 years and corn yields may often be reduced during that transition period. An alternative is to strip till the soil which gives a farmer some of the benefits of each tillage system.

Reducing Soil Compaction
Indian Summer is here with warmer temperatures and some sunlight as farmers try to finish up harvest. A lot of field work is being done including deep and shallow tillage.

Corn and Soybean Cover Crop Management
As fall harvest progresses, farmers are looking ahead to next years crop. Corn and soybean farmers utilizing no-till and/or cover crops may need to make different management decisions than conventional tillage farmers.

The Smell of Rain and Microbes
After a dry summer, the smell of rain is often refreshing but maybe a little less so to farmers at harvest time! People can often sense it is going to rain. This pre-rain smell comes from ozone formed when oxygen (O2) in the atmosphere is spilt through electrical charges in the clouds to form ozone (O3).

Breaking Through to the Root Cause of Compacted Soil
Jim Hoorman, Hoorman Soil Health Services discusses how to use soil health and cover crops to improve soil structure and reduce soil compaction.

Soil Health Indicators
How do I know if my soil is healthy and what are indicators of soil health ? Plants thrive in healthy soils and are not overtaken by pests (weeds, insects, diseases).

Planting Cover Crops Late
As harvest progresses, its not too late to plant cover crops, but the options are becoming more limited. Most cover crops need a minimum of 60 days of growth before cold freezing winter weather limits growth.

Ohio No-Till News
The Ohio No-till Conference will be held December 3rd at the Der Dutchman in Plain City. Jim Hoorman, Hoorman Soil Health Services will speak for 30 minutes on Vole Control. In person participation is limited to 150 people, but the program will also be offered virtually on the web.

Cover Crops Enhance Soil Health
Fall harvest has started but farmers also need to think about planting cover crops. USDA-SARE publication (10 Ways Cover Crops Enhance Soil Health) states "Cover crops lead to better soil health and potentially better farm profits."Here is a 10-point summary.

Reducing Nitrogen Runoff
After a dry summer, reduced corn yields generally results in excess soil nitrogen (N) and excess N leaching in the fall, winter, and spring. Most farmers fertilize for maximum yields and hope that the weather cooperates.

Maximizing Wheat Production
Achieving higher grain yields requires a combination of good genetics with a good environment. The full genetic potential of many crops is severely limited by poor environmental conditions especially due to poor soil structure, too much or too little water, and the availability of essential nutrients.

Cover Crop Economics
Many farmers ask what is the value of planting cover crops on my farm? A common question with many answers. Cover crops have many benefits and uses, so the answer varies by farm field and farming operation.

Vegetation and Reproductive Plant Growth
As summer winds down, gardeners and farmers are harvesting their crops. The dry weather has reduced yields but crops have a higher sugar content due to the concentration of plant sugars from less water.

Sowing Cover Crops
Late summer and early fall (August 1-Mid-September) is a great time to sow cover crops. Methods include broadcasting with an airplane, helicopter, high boy applicator, various types of spreaders OR seed incorporation with light tillage or a drill.

Lenawee Center for Excellence (Adrian MI) Twilight Tour September 2, 2020
The 2020 Field Day for the Lenawee Center for Excellence in Adrian bas been replaced with a twilight tour Sept. 2, from 4:30 p.m. and run until 7:30. Due to COVID-19 restrictions, the tour will limit attendance to 100 participants.

Promoting Beneficial Insects
There are numerous beneficial insect species in the USA including 91,000 species of beetles (Order:Coleoptera), and many Hymenoptera or species of wasp (4,000), bees (4,000), and ants (1,000).

Vole Alert
Farmers are reporting crop damage from voles (field mice). Oval bare patches and burrows in soybeans or wheat fields indicate voles are present. Vole populations peak every 2-5 years.

Soil Health Principles
There are several natural principles that apply to implementing good soil health. These include minimizing soil disturbance, and maximizing the following: surface cover, live roots, and biological soil diversity.

Late Summer Early Fall Cover Crops
Late summer and early fall are great opportunities to plant cover crops and improve soil health. Days are shorter, but with ample sunshine left and a little rain, cover crops grow quickly. Both summer annuals which die with the first frost and winter annuals can be grown.

What is Soil Health
Soil Health is a term that everyone seems to be confused about or have their own opinion. Soil health is about three things: soil organic matter (SOM), soil microbes and organisms, and plants. Good soil and soil health are dependent upon the interaction of these three things.

Phases of Water
Rainfall has been quite variable with some crops looking good while other areas still need rain. Corn yields will vary this year depending upon emergence, corn stands, and the weather. As Joe Nester says: Do not over estimate your corn yields.

Improving Soil Moisture
Soils are water reservoirs for crop production . Dr. Elwyn Taylor, Iowa State University climatologist reports that 200-bushel corn needs 19-23 inches of water during the growing season.

Wheat Straw and Cover Crops
As wheat and barley harvest progresses, farmers often ask what should they do with wheat straw? Should I keep the straw on the field to build soil organic matter (SOM) or should I sell it? What is the value of the wheat straw and how many nutrients are being lost? Does straw residue hurt the next crop?

Forage Cover Crops
Planting forage cover crops can be a beneficial food source and a place to apply manure. Grass cover crops like sorghum, Sudan, Sorghum Sudan, cereal rye, annual ryegrass, millets, Teff, and oats are great forages that build organic matter, tie up manure nutrients, keep the soil from eroding, improve soil structure and still make great feed.

Calcium and Manganese Deficiency
Calcium and Manganese are two soil abundant elements that are often not as plant available and may be deficient in plant cells. Calcium is used in cell wall membranes and often becomes limiting during critical pollination periods when cells are rapidly dividing.

Cover Crops After Wheat
Wheat harvest may start in 3-4 weeks and it is time to order cover crop seed. A long growing season after wheat allows for many options. Warm season cover crops grow in the summer but die with the first frost while cool season species generally survive the winter.

Earthworms Enhance Soil Tilth and Fertility
Every farmer loves to see earthworms in their soil because it indicates good soil health and productivity. Earthworms, cover crops, and no-till together are a great way to improve your soil.

Emerging Planting and Soil Issues
The 2020 planting season has been mostly cold and dry, allowing most farmers to get crops planted, with rain and warmer temperatures now expected.

Crimping Cover Crops
Crop roller crimping has become a common way to mechanically terminate cover crops. Crimpers are used to kill grass cover crops (cereal rye, barley, wheat, sorghum, Sudan, pearl millet), vetches (hairy and common), annual clovers (crimson and balansa), buckwheat, and multi-species cover crops.

Video of New 30 ft narrow transport proto type 8 ft 6 transport

Soil Inoculants
As planting season starts, some farmers are applying soil bio-inoculants to promote improved plant growth. Dr. Jay Johnson (retired), former OSU fertility specialist, touted inoculating soybeans with Rhizobium bacteria yearly to increase soybeans yields 1-2 bushels.

How Selenium and healthy food can reduce COVID virus infection and/or spread up recovery

Glyphosate's impact on Pseudomonas, a beneficial Calcium and Maganese Deficiencysoil bacterium

Rhizophagy: Rhizophagy Cycle: An Oxidative Process in Plants for Nutrient Extraction from Symbiotic Microbes
Rhizophagy is how plant roots absorb soil nutrients from beneficial soil microbes (bacteria and fungi). In some cases, whole amino acids and proteins can be absorbed by the plant root by devouring the bacteria and fungi. This fascinating new information changes how agronomist view plant nutrition.

Pest Management: Endophytic microbes and their potential applications in crop management
Endophytic microbes are beneficial plan bacteria and fungi that help plants prevent pests by improving plant nutrition and improving soil health which repels most pest.

How and When to Plant No-till
Planting no-till can be tricky and scary! Successful no-till depends on having fully functioning healthy soils and efficient nitrogen (N) recycling.

Corn Planting & Soil Temperatures
Planting corn in cold wet soils results in reduced yields. When the soil temperature reaches 50o F and is rising (with ideal moisture), that is the optimal time to plant corn.

Planter setup
Spring planting season is almost here and farmers are making final planter adjustments. Planter setup is critical because The sins of planting will haunt you all season according to Ozzie Luetkemeier, Purdue farm Manager.

Controlling Slugs
Slugs and voles (field mice) population increase during mild winters and flourish during wet springs, especially in no-till or cover crop fields. Scouting shows that slug populations are increasing and may be an issue this year. Slug control depends upon understanding slug biology, scouting, natural predators, and effective cultural practices.
Controlling Voles: Field Mice
Voles: Field mice are really rebounding and we are expecting a lot of crop damage this year. This article is timely because now is the time to scout for voles!

INTERVIEW FOR THE NATIONAL NO-TILL EDUCATOR OF THE YEAR AWARD

Photos from Randall Reeder at Nathan Brause farm.
We are being interviewed by Matt Reese.
Nathan Brause is the Ohio No-till Council Innovative Farmer of the Year. I am being interviewed for the National No-till Educator of the Year Award.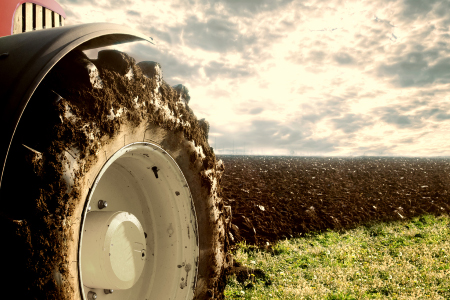 Tillage is Like a Drug Addiction

Civilization and the world population started increasing when humans began growing their own food to feed themselves and their livestock rather than pursuing and hunting wild game. The first human cultivation of crops probably was no-till, requiring very little cultivation. The first crops for human consumption may have been with a stick to create a hole and a seed bed for a kernel of grain. With time, our early human ancestors used livestock to speed up the planting of crops.
- Read More -
Are USA Soil Erosion Rates Sustainable?

Soil is a gift of life and the basis for modern civilization. The soil provides humans with food, fiber for clothes, shelter (wood, bricks, metals), foundation for our buildings, medicines, and a place to live and play.
- Read More -
Discovering How Cover Crops Impact Cropland Habitat for Pests: Voles, Slugs, and Other Pests

Pest problems like voles, slugs and army worms tend to be cyclical in nature and can have dramatic impacts when there's an outbreak. Understanding the role that cover crops and no-till can play in creating the conditions for these pest to thrive can help producers make management decisions. This webinar is first of a two-part series dealing with managing cover crops and tillage to minimize pest problems.
- Read More -

Managing Cover Crops and No-till to Reduce Pest Problems (part 2)
- Read More -